CBD treatments are everywhere, from the local nail salon to high end spas, but why use topical CBD? Cannabidiol (CBD) is one of many components of the sativa strain of the cannabis plant, unlike THC (tetrahydrocannabinol), the popular psychoactive component, it doesn't give one the feeling of being "high." 
Studies which indicate the topical use of CBD may have many possible health benefits for both skin and muscle. CBD has been found to have the potential to help with eczema, acne, skin, pigmentation and even stimulate hair growth. Furthermore, positive results have been found in wound healing, skin infections, and psoriatic plaques. Today hemp-derived CBD is legal in all 50 states, making it an ideal addition for massage therapists to use in their practice.
Types of CBD massage oil
CBD massage oil has become quite the trendy addition to pampering routines, offering the full indulgence of massage oil with all the added benefits of CBD. Understanding the different types of CBD will help you decide which is right for you. 
Full-spectrum CBD:

Full-spectrum is superb for those after a full experience as it uses

whole plant cannabinoid compound

s. This formula contains cannabinoids, like THC, and other subtle natural compounds, such as flavonoids and terpenes, which add an extra layer of pleasure. 

Broad-spectrum CBD:

For those wary of THC but still interested in something that yields benefits of other cannabinoids, broad-spectrum may be the ideal choice as it boasts similar effects to full-spectrum but with no trace amounts of THC.

Isolate:

Lastly, there's classic CBD isolate—pure 99%+ cannabidiol crystals—which dominates the market due to its odorless quality making it ideal for DIY blends.
How we choose the CBD massage oil
Upon researching CBD oils, I came across many different "best" and "top" lists, but what truly sets apart one product from another? What criteria makes a quality product and how can we be sure that it is safe and effective, especially when you consider that CBD is not currently regulated by the FDA? We have combed through dozens of CBD brands to ensure that each item on this list meets the highest standards in terms of:
Quality:

We prioritize products with organic high-quality ingredients and strict manufacturing processes that ensure a safe, effective product.

Safety:

We also make sure to choose products with accurate labeling, so you can trust what's on the bottle.

Manufacture process:

We only choose products from reputable companies who are committed to producing quality and safe products with sustainable practices.

Transparency:

We look for brands who are transparent about their sourcing and extraction methods, as well as lab testing results.

Quackery:

Finally, we vet companies to ensure they don't make any unsubstantiated claims or engage in quackery.
NuuMe Organics is a leading provider of premium CBD massage therapy oils, offering superior care and natural therapeutic effects. Their flagship product is the 750mg, USDA Organic Certified Hemp Distillate Massage Therapy Oil, which contains a potent blend of full-spectrum actives and clean ingredients like almond and coconut oils. 
This unique formulation has been crafted to provide powerful relaxation and well-being benefits for people seeking natural relief from tension and stress-related ailments. It can be used to soothe sore muscles, reduce inflammation, increase circulation, improve flexibility and joint mobility, support muscle recovery and much more. Moreover, it can be used as a regular part of any massage routine or simply applied directly to the skin for localized relief. 
Key Features:

Full Spectrum

750 mg

Third party Lab tested

Certifications & Associations:
Ingredients: Organic sweet almond oil, organic MCT coconut oil, organic hemp distillate, organic raw hemp extract, organic sage essential oil, organic rosemary essential oil.
Mad River Botanicals 1500mg CBD Oil Infusion
Mad River Botanicals is a traditional family-owned New England farm located in Vermont, owned and operated by Tonya Howell, Aaron Locker, and Tonya's three children. They practice sustainable and organic farming techniques to ensure their products are of the highest quality possible. Using only top-grade ingredients in their products, which are all ethically sourced from local farmers and suppliers whenever possible.
This organic hemp extract is a powerful blend of natural healing properties perfect for mixing. It has been carefully crafted with minimal processing to ensure its full range of cannabinoids, terpenes, and flavonoids are retained. These components interact synergistically to provide an "entourage effect," helping reduce inflammation and pain, as well as anxiety and stress from daily life. 
Key Features:

Full Spectrum

1500 mg

Sustainable development

Certifications & Associations:
Ingredients: MCT coconut oil, organic, full-spectrum, whole plant hemp extract
The NurseGrown Organics team believes that everyone deserves access to natural remedies made from clean ingredients without sacrificing quality or potency. That's why they strive to make sure every product they produce meets the highest standards possible. They take pride in developing natural alternatives that are safe and effective while being mindful of the environment. 
NurseGrown Organics 800mg CBD Deeply Rooted Full Spectrum Hemp Flower Massage & Body Oil is the perfect option for massage therapists seeking to relax their clients through aromatherapy while also alleviating aches and pains.
Key Features:

Full Spectrum

800 mg

Third party tested

Certifications & Associations:
Ingredients: Clean Green Certified full spectrum hemp flower extract in organic sunflower oil, organic jojoba oil, organic safflower oil, organic MCT coconut oil, organic lavender essential oil, organic rosemary essential oil, organic black spruce essential oil.
Blue Lotus CBC Massage and Skin Oil
At Blue Lotus Wellness and CBD Boutique, customers can find a wide variety of products and services to help them relax, improve their well-being, and get the most out of life. With an eye toward delivering the latest innovations in health and wellness, Blue Lotus is dedicated to helping its clients achieve a healthy balance of mind and body.
This USDA Organic CBD Massage Oil is a luxurious blend of sunflower seed and jojoba oils, enhanced with soothing arnica extract and potent 1200mg of CBD. It's an ideal massage oil that helps calm stressed muscles and joints due to its combination of high-quality ingredients that provide natural relief for soreness or tension.
Key Features:

Full Spectrum

1200 mg

Third party tested

unscented

Certifications & Associations:
Ingredients: Organic Sunflower, organic Jojoba oil, and full spectrum hemp extract
Joy Organics Organic CBD Massage Oil
Joy Organics is a trailblazing company that is changing the game when it comes to massage therapy products. Featuring US Certified Organic ingredients, this formula ensures customers receive only the highest quality product with no harsh chemicals or artificial ingredients for a safe massage experience. 
Joy Organics' massage oil is made of MCT oil and full spectrum hemp extract, making it powerful and effective at providing relief. It is well-known for its calming and therapeutic effects which can help reduce stress, anxiety, inflammation, and pain while promoting relaxation. The MCT oil combines with the natural benefits of CBD to create an even more powerful remedy that offers long-lasting support against tension. 
Key Features:

Full Spectrum

500 mg

Third party tested

Certifications & Associations:

Hemp Industries Association Member
Ingredients: Organic MCT Oil, organic phytocannabinoid-rich hemp extract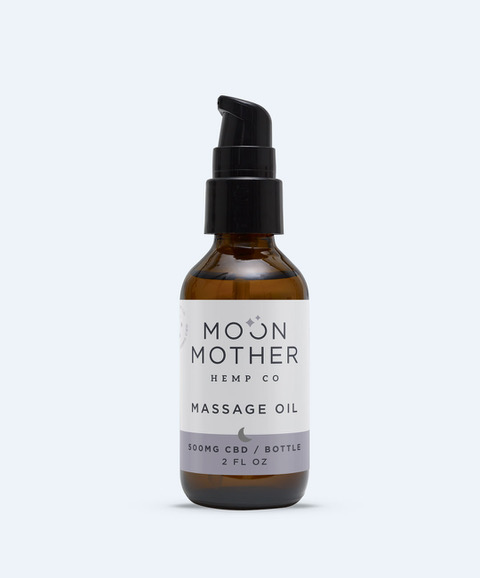 Moon Mother is a family-run company that produces high-quality CBD massage oil, ethically sourced and produced in the USA. Founded by the Bates family in Colorado, Moon Mother harnesses the healing powers of full-spectrum hemp extract creating an effective and safe product for massage therapists.
The blend of full spectrum hemp extract, lavender essential oil and jojoba oil used in Moon Mother's products quickly soothes muscles and restores balance, helping clients achieve both physical and mental wellbeing through improved relaxation and stress relief.
Key Features:

Full Spectrum

500 mg/2 fl oz

Cruelty free

No extras or fillers

Sustainable development

Herbalist Formulated

Women owned business

Certifications & Associations:

Third party lab tested and certified
Ingredients: Jojoba oil, lavender, essential oil, full spectrum, hemp, extract, vitamin E
CBD massage oil contraindications
As beneficial as CBD massage oil can be, consider the potential contraindications in practice. CBD massage oil has been known to cause side effects such as sedation, increased appetite and mild dizziness in some individuals.
Also, some people with certain medical conditions should avoid using CBD massage oil as it can interact with certain medications. Though more testing needs to be done there are potential interactions with other medications including antipsychotics, blood thinners and anti-inflammatory drugs.
Some people may also be sensitive to the essential oils used in the product and could experience an allergic reaction when exposed. As such, it's important to consult a medical professional prior to use for safety and efficacy concerns. CBD massage oil can be a great product to help ease soreness and discomfort when used properly with caution.
Is CBD legal?
The legal status of CBD in the United States is complicated and varies state by state. Federally, hemp-derived CBD products, as long as they have less than 0.3% THC, are legal under the 2018 Farm Bill. However, the legal status of CBD in the United States is complicated and varies state by state. 
As with any plant, there are multiple strains and varieties of cannabis, with more than 700 different strains currently available. Each strain has a unique combination of cannabinoids with the "hemp" strains containing low to no THC.
As of early 2023, Idaho and West Virginia have the most stringent laws regarding CBD, while there is conflicting information on informational sites linked to South Dakota and Nebraska.
How does CBD oil relieve pain?
Our skin is the largest organ of the human body and takes in more of the outside world than we realize. The topical use of CBD can directly impact both the health of our skin as well as the tissues underneath with the most popular being its ability to relieve pain and discomfort. Through its anti-inflammatory properties, CBD can reduce inflammation at the source of the pain, providing relief without any systemic effects.
The topical absorption of CBD has not only been shown to be used as an anti-inflammatory, but is also directly engages with our endocannabinoid system (ECS) which helps regulate things like sleep, mood, and pain through CB1 and CB2 receptors which are found throughout the body. 
Science has not yet been able to determine all the ways in which cannabidiol interacts with the ECS, but there are many speculations. Dr. Kert Hutchison, a professor in the department of psychology and neuroscience eat University of Colorado Boulder, surmises in his course Medical Cannabis: The Health Effects of THC and CBD that data may suggest cannabidiol represses some of these receptors which result in reducing nerve sensitivity and numbness further alleviating pain and discomfort. With these benefits in mind, topical use of CBD is an excellent natural alternative to traditional medications when it comes to managing pain and soreness. 
Can you mix CBD oil with regular massage lotions and oils?
Yes, CBD oil can be mixed with regular massage lotions and oils to create a custom blend that offers additional therapeutic benefits. However, due to the difficulties researchers face in the research of cannabis and CBD, there aren't many known interactions, but this does not mean they don't exist. When mixing CBD into other oils and lotions be mindful of the other ingredients. Base oils are ideal for mixing, but not much is known on the interactions CBD may have with herbal medicines. 
[Related: Massage Lotions vs. Oils: Which One Should You Use?]
Takeaway
The bottom line is that if used correctly, CBD massage oil can be an excellent natural alternative for those looking to reduce pain and discomfort without the use of traditional medications. It's important to read labels carefully when purchasing CBD products as some may contain pesticides or heavy metals that could interfere with its effectiveness or increase the risk of side effects.
Since CBD is known to interact with some medications, consult your healthcare provider to ensure it's safe for you to use based on your medical history and current medications. With these tips in mind, CBD massage oil can be a great tool for any massage therapist to have in their practice to help clients achieve health and wellness needs safely and effectively.
Lindsay is a licensed massage therapist and a mother of three, who specializes in rehabilitation with emphasis on prenatal and postnatal care.
After graduating from the National Holistic Institute in San Jose, Calif., she went on to study how pain affects the body and how it can be alleviated during the constant changes of pregnancy and early motherhood.
In her free time, Lindsay has a deep love of all forms of art from storytelling and music to sewing and painting.